Felix Policarpio
(Ottawa, Ontario, Canada)
POLICARPIO_FELIX_Peace-Lily
POLICARPIO_FELIX_Kalabaw-Mango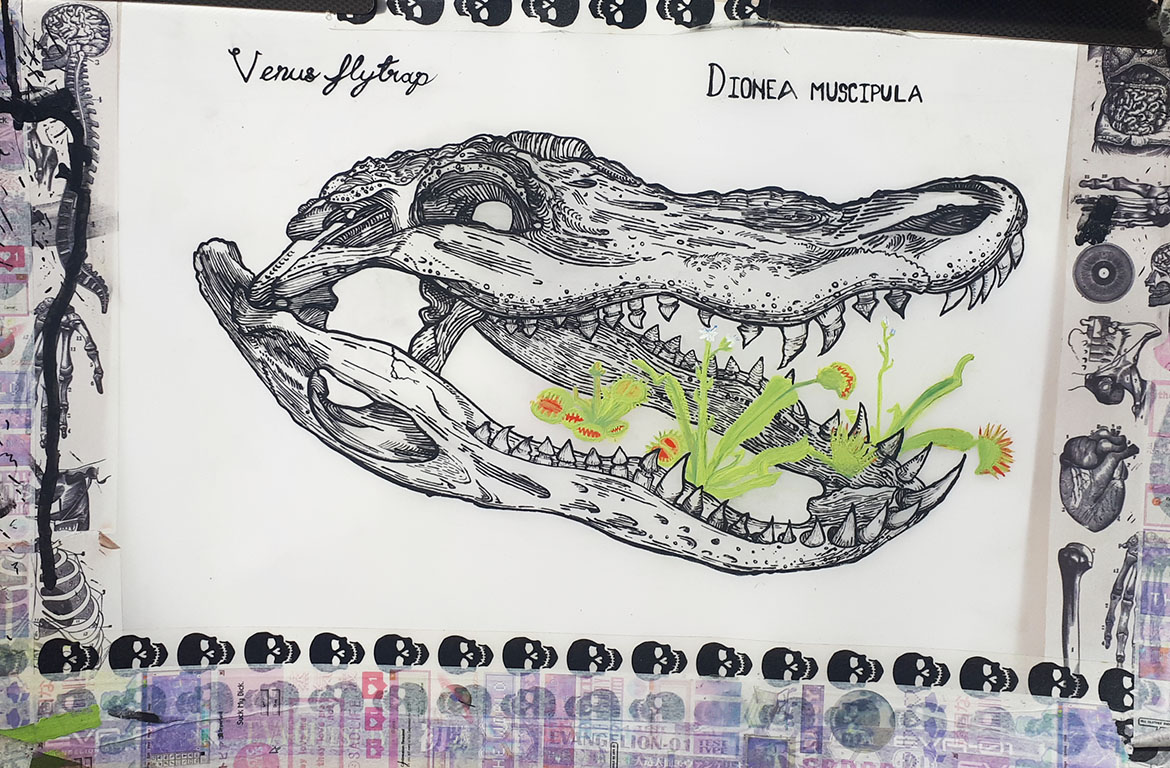 POLICARPIO_FELIX-Venus_Flytrap-12x18in
POLICARPIO_FELIX_Jewelweed
Biography
Remilyn "Felix" Policarpio (25) is a Filipino transmasculine artist, musician, educator, and storyteller. The oldest of four siblings and first in his family to be born on Canadian soil in Toronto, inspired by a thirst for learning, he grew up reading encyclopedias for fun. He attended the Iona School of the Arts, specializing in instrumental works for half of his time there before later transferring to visual arts. He moved to Ottawa in 2015 to study philosophy, stopping short due to mental illness but continuing his work as an educator. Felix currently splits his time between Ottawa and Wakefield, helping mentor children and continuing his own growth.
Statement
The Botany and Bones series was originally conceived in the year of 2018, while the artist was in Oregon. 
Felix always had a fascination with the macabre and strange. Spending time with his aunt in the hospital after school and losing her at a young age left him with a need to understand death. Approaching teenagehood, his mental and physical health took a deep dive. The illness caused him to look inwards in a figurative and literal sense. He would somewhat ironically be diagnosed with Graves Disease in his adult life.
Natural curiosity led him into anatomy and art. Sharing these interests with his fiancee, bones were a theme they wanted at their wedding. However, they did not want to focus on the dark. The flowers were introduced as a vehicle for hope- growth in the face of adversity, and the continuation of beauty even among death. 
Stylistically, the works are drawing upon old reference books, but also the fantastical. Fairytales and children's books inspired the hatching. Sir John Tenniel's original Alice in Wonderland illustrations struck him as a child, striving to replicate them since first seeing them. 
Yearning to provide his wedding guests with gifts and short on income, the first 25 pieces were penned in one summer month. Every piece was about the size of the postcard and was given to close friends and family, the newlyweds keeping three of them. 
In 2020, the series is being revisited. These pieces are not only larger and more elaborate but are drawing beyond the artist's own personal bubble and into international flora and fauna. The stark white of bone against the vibrancy of the flowers is meant to exaggerate the duality between life and death, bringing them together as two sides of the same coin… The past nourishing the future.