Easy Arrival and the Medium of Your Choice

For your Art Workshop in Europe
and South America
Rounding up for our art courses in Italy, France or South America is very easy. We meet you at a central location. We provide all the details in our pre-departure newsletter.
If I fly to...
If I travel to Florence (Italy)?
Traveling to Florence for my painting workshop >  Amerigo Vespucci Airport > Code FLO .
You fly to Florence; the airport is very small as its runaway is very short.
From there you take a shuttle bus or a taxi to Santa Maria Novella (SMN) train station.
Then you take a train that will stop to Arezzo a city halfway between Florence and Rome. "Binario" means "platform" in Italian.
The train ride from Florence to Arezzo is around one hour.
You will see us at the entrance of the stazione (train station)
If I travel to Rome (Italy)?
Traveling to Rome for my art class > Leonardo da Vinci Airport > Code FCO (because of Fiumicino, the city next to the airport)
You fly to Rome; nice size airport but nothing compare to huge American airports.
From there you take the Leonardo Express train to Termini train station.
Then you take a train that will stop to Arezzo a city halfway between Rome and Florence. "Binari" means "platforms" in Italian.
The train ride from Rome to Arezzo varies on the type of train you will take (milk run or speed train).
You will see us at the entrance of the Stazione (train station)
If I travel to Marseilles (France)?
Traveling to Marseille for my art workhop > Marseille Provence Airport in Marignane > Code MRS
 You fly to Marseille > medium-small-size airport > https://ontheworldmap.com/france/city/marseille/marseille-airport-map.html
From there ("Gare routière" on the map), you simply take a bus to the very small Manosque train station ("la gare de Manosque").
You will see us smiling outside.
If I fly to Barranquilla, Colombia in South America?
Traveling to Barranquilla for my drawing workshop >  Ernesto Cortissoz Airport > Code BAQ
 You fly to Barranquilla (most probably via Panama, Miami or Bogotá). The airport is currently (2021) into a renovation.
You will see us or a chauffeur waiting for you. He or she will hold a small sign with your name.
The chauffeur will drive you directly to Hotel Pradomar in Puerto Colombia (55-minute drive)
We will receive you with a big smile and a welcome drink.
…and traveling on the last day of my art holidays?
VERY EASY!
… last day in Colombia?
You will be then in Cartagena. You will have the choice to stay longer in the city or fly back home or carrying your trip from Rafael Núñez Airport (code CTG) to another city in South America.
… last day in Italy?
On the last day, we take everyone back to the Arezzo train station. From there you can take a train back to Florence or Rome or the destination of their choice.
… last day in Provence?
Do not forget that your last day in Provence is in fact in Barcelona. We will leave at the hotel and us (Walk the Arts) we have to take a train back to Avignon from the Barcelona Sants train station for logistic purposes.
But... what is?
What is Art?
What is the definition of Art?
"Art" (as in a work of art) is foremost an expression of the self, manifested in a novel way, reflecting the societal context in which it was done. Art also involves a concept, an idea, where intelligence, consciousness, and inquiry are deeply interconnected. Craft, harmony, truth, and goodwill are inherent parts of a work of art.
Of course, we could expand on this definition. In our Western world, art refers foremost to beauty, a notion that has evolved since Greek antiquity. Art in the 21st century, a period dominated by science, technology, and sociology, also questions the concept of beauty, but well-rooted into the values of the human being. When dealing with the visual arts, this notion can be expressed through the landscape, the portrait, or the abstraction.
As written above, art remains contextual, "context being the pedestal of meaning" as written by art historian Yves M. Larocque. Religion, culture, education, undoubtedly make context, hence contributing to the meaning of the work of art. The art historian Arthur Danto wrote that "a work of art is a meaning given embodiment". (Walk the Arts)
What is the best art classes in Tuscany?
What is the best painting workshop in Italy?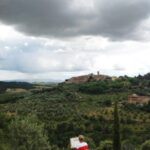 Since 1997, at Walk the Arts, we have been offering top unique art workshops, art retreats, and cultural tours in Italy, France, Spain, and South America. Our courses are open to artists of all levels, from beginners to advanced, and working in all mediums (oils, acrylics, watercolors, etc.). They are also great for accompanying partners, independent travelers, and anyone seeking new meaningful activities and enriching cultural experiences.  We offer artistic growth, gastronomy, beautiful locations, and a stimulating learning environment.
Summary
Event
​
Studio Italia, an art workshop with Walk the Arts
Location
Starting on
Ending on
Description
Top painting workshop in Tuscany (Italy) open to artists of all levels and all media. Offered since 1997, Studio Italia is a unique art retreat that combines plein air landscape painting, art history/theory lectures, touring and gastronomy. The perfect painting holidays!
Offer Price
What makes an excellent art teacher?
Passion first! More than an artist, a good art teacher, is an energetic passionate human being. Someone whose life has been dedicated to art and art education. Empathy, active listening, and a strong yearning for their students' success are all essential qualities of excellent art instructors. Understanding the students' vision of their artistic level and helping them move on is the starting point of any good teaching method.
Good art teachers are also knowledgeable about different techniques, but most importantly they keep up to date with the various existing "art-worlds". This allows them to direct their positive critique toward a particular one, so the student may thrive accordingly. Art history, art theory, and philosophy are also essential for good art education since they help learners develop novel ways of expression without repeating what has been done before.
In short, Yves, your main instructor, is that kind of person; he aims to help his students release their creative potential and develop the skills they need to take their art to the next level.
Which medium should I use during my art workshop?
Which medium should I use during my painting workshop?
The answer is simple: the medium of your choice. You are maybe astonished to learn that all mediums are accepted for the simple reason that the vast majority of our participants are beginners and intermediate as this pyramid shows. We have been teaching drawing, painting, color theory and perspective for more than 30 years in an art school in Canada and all to beginners and intermediate. Therefore, we know our stuff!
As for our university graduates (BFA  and MFA), they say, "Eh, we never learned that at the university." As for our established worldwide renowned artists (such as Vicky) and our university graduates (Kim), very well locally known, they see our workshops as an "art retreat", a time to reflect upon their new series while conversing with us.
So, therefore we write "all levels", "all media" and "art retreat". And let us not forget that Mount Fuji was painted thousands of times, but what makes "your" Mount Fuji unique and authentic, is simply "you".
Art classes in Italy France and Colombia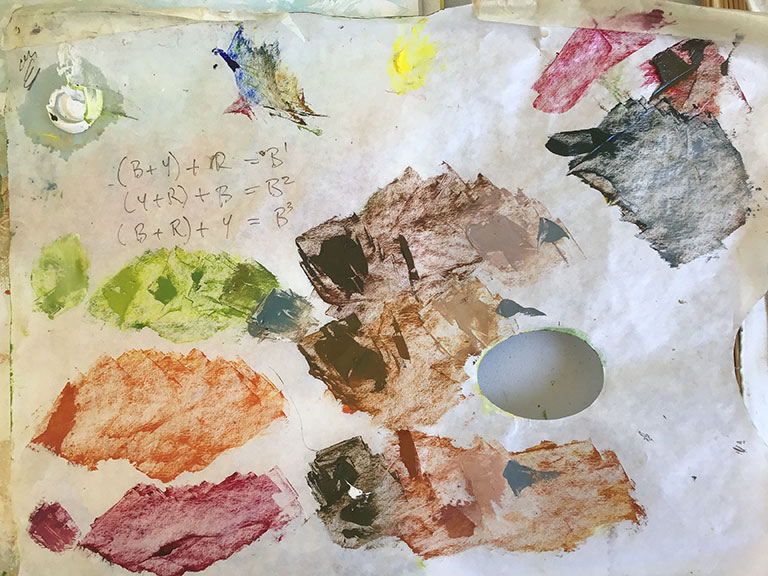 Art Instruction
Walk the Arts
Walk the Arts
,
Telephone No.800.611.4789
Europe Colombia
Italy, France, Colombia, Spain, Canada
Description
The medium you wish to use during your painting workshop with Walk the Arts.
OILS
Oil painting is the process of painting with pigments that use linseed oil or other drying oil as a binder. The drying oil has a chemical reaction with oxygen causing the paint to slowly solidify. This process is called oxidization. Since oils take longer to dry than other mediums, after several hours colors are still blendable and you can easily make changes to your work during the course. For this reason, we recommend oils to beginners. Also, in addition to their malleability, oils remain the favorite medium of many participants because of its richness and sumptuousness. Despite its slower drying rate, oil painting works very well during our workshops. Why? The sun in Tuscany and Provence is very hot. Also, a couple of drops of cobalt siccative help to speed the drying process.
ACRYLICS
Acrylic paint is water-based paint in which the pigment is bound in a plastic resin. Acrylic paint dries fast as its water content evaporates into the atmosphere. Because of their drying speed, mixing acrylics is more difficult than mixing oils. Also, you need to work faster and have less flexibility to make changes to your work.  Acrylics may also darken slightly as they dry, while oil paints do not. However, if you are an acrylic painter or simply want to try this medium, no problem! Acrylics work also very well during our painting workshops in Italy and France. Why? We recommend using a gel retarder to slow the drying time and make easier the blending and layering.
WATER-SOLUBLE OILS
Water-soluble oils are oil paints that can be diluted and cleaned with water, rather than solvents. They are water mixable, not water based. They contain dry pigments, an oil binder and an additive that acts as an emulsifier. Like conventional oil paints, water-soluble oils dry by oxidation. They dry a little faster than traditional oils but much more slowly than acrylics. Water-soluble oils can be mixed an applied as tradional oils. But they can be thinned with either drying oils, water or water-soluble mediums. Because of their versatility they are a good alternative to both conventional oils and acrylics.  
WATERCOLORS
Watercolor paints are made of pigments suspended in a water-soluble binder. They can be more challenging than other painting mediums. Why? You need to plan your work in order to preserve the white space on your paper. Also, since watercolors are translucent you cannot cover up your mistakes. In addition, you need to learn how to balance the amount of water so colors remain vibrant. Nevertheless, during our art courses in Provence and Tuscany, we often have participants of all levels, from beginners to advanced, working in this medium. We recommend bringing very good brushes, quality pigments and enough Arches paper.
DRAWING and PASTELS
During our art retreats with us in Italy and France you can draw and "paint" with any type of oil pastels. As for soft pastels, they are made with a combination of white chalk, pigment and gum arabic, which gives it a drier matte finish. Because of their chalky and dusty consistency, they can be smudged and blended to a greater extent than other pastels. Also, they don't stick to the surface, and the excess can be easily brushed off. Oil pastels on the other hand, consist of pigment mixed with a non-drying oil and wax binder. They have a creamy consistency and once applied they firmly get fixed to the surface. They are more stable and intense in color, though less blendable than soft pastels  Since drawing and pastels go hand in hand, we recommend the use of proper paper, shapers and smudgers.
CONCEPTUAL and CONTEMPORARY ART
We do not teach these disciplines, knowing that our rare participants in these fields already know what they have in mind. However, we can engage in theoretical conversation, hence pushing ideas and stimulating others.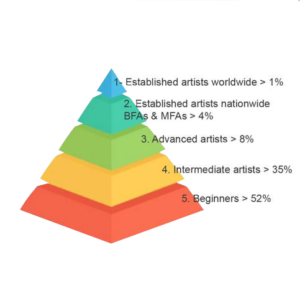 A few pics to get you oriented

Since 1997 Walk the Arts (icscis inc.) has been offering top quality painting workshops, art classes, and art history tours in Italy, France, Colombia, Spain, and the United States.
© 2020 Walk the Arts | painting-workshops.com

Call Us
(800) 611-4789 (North America | e.s.t.)
(+1) 819 457-1892 (World)