"Artistic growth and delicious food"| The best art workshops in Italy, France and South America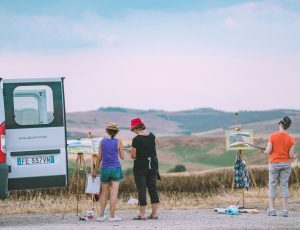 Top-quality art workshops
"Artistic growth and delicious food,"  one of our former artists wrote.  Since 1997, we have been offering top quality, if not the best art workshops in Italy, France, and South America.  They are all a unique mix of plein air painting, art history, touring and gastronomy, But it is in the region of Tuscany where we spend more time following the path of our hearts and that of the Macchiaioli. The landscapes of the Val d'Orcia, Siena, Montepulciano, and Cortona are outstanding and the Italian quality of life is very seducing.  Our painting holidays in Italy have been attended by hundreds of art lovers and artists of all levels from all around the world. Moreover, 32% of first-time participants return for the same workshop; and nearly 648% join a second Walk the Arts' art experience.
Since we limit the size of our groups to eight artists only, we are able to offer personalized art instruction and an intimate and stimulating environment. Our aim is to help participants discover their own creative path. Also, Walk the Arts has worked with American Colleges and Universities providing special credit programs for their students.
Many of our past participants considered our art workshops as fantastic art summers camps for adults because of the "totality of the experience embracing rigor" since everyone followed an exciting schedule and returned home with the intense feeling of having accomplished something in the act of painting. There are many art workshops being offered, but none as professional as ours.  Citing a former participant "I have attended many workshops but the one offered by Walk the Arts was by far the most in-depth and rewarding."
"In-depth learning about art, art history, and art theory," wrote another participant; also true since knowing that everything is now being found on the Web (read our post), we can simply not afford to rehash first-hand information. Of course, we do help everyone to reach their desired colors and shapes, but through other more meaningful ways.
All of our painting workshops are intended for:
1) beginners who wish to discover painting;
4) intermediate artists who wish to further their creativity through the Italian or French landscapes;
2) accomplished artists or university art students of all levels who desire to reflect upon their art or|and who need new visions, new challenges, in brief, a new commitment toward painting;
3) experienced artists who simply wish to carry on what they do without supervision;
5) the "symbolic other" who desires to accompany her/his partner to a Walk the Arts workshop, either to enjoy the sites and the regional cuisine or to explore their first encounter with art.
Oil painting, watercolor, acrylics are all welcomed mediums for our plein-air daily art classes.
At the end one of our art workshops, you will a better understanding of the field of vision, perspective, colors, texture, and composition.
More on Studio Italia art classes
More on Atelier Provence painting workshop
More on Studio Colombia painting workshop