Studio Colombia ART&EAT – A winter art workshop in South America for art lovers, foodies, and Snowbirds
February 19-27, 2020
(2 places left)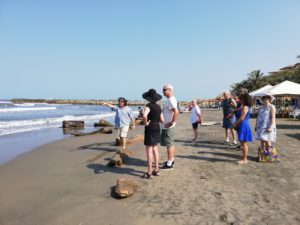 Art and food workshop in the Caribbean Coast of Colombia – The perfect winter getaway
Our unique art workshop in South America takes place on the Caribbean Coast of Colombia (Cartagena and Barranquilla). You will spend eight full days making art and tasting the best of Colombian Coastal cuisine.  The aim of Studio Colombia, a meaningful art holiday in the Caribbean is twofold. First, to provide participants with solid notions of watercolor and perspective drawing. Second, of course, to have an authentic taste of Colombian Caribbean food and culture in the fashion of Anthony Bourdain. What can you ask more from a rewarding experience in South America?
During this workshop, we provide a series of exercises will sharpen the visual perception of various perspective drawing components: horizon line, vanishing points, basic proportions, etc. As for watercolor, the dos and the don'ts of this needy medium.  On the food side, cooking demonstrations by local chefs, a cooking class based on Walk the Arts' cooking theory (see our published book), a street food tour, visiting local markets, and a taste of local dishes on the beach.  Participants who are not too keen about food and cooking are free to devote more time to painting or simply enjoy the sun and the beach. We have both an art instructor and a food/cooking facilitator to cover the group's needs.
Studio Colombia Art and Eat, this unique art workshop in South America, is suitable for art lovers, foodies, photographers, life-long learners, and snowbirds. Click here for more details and prospectus.
Schedule 
The schedule of our art workshops in South America may be subject to change depending on the arrival time of the group, changes on ground transportation, availability of chefs, etc. All activities are optional.
Day 1 > In transit. Late arrival the Ernesto Cortissoz International airport in Barranquilla. Transfer to Puerto Colombia; welcome drink on the beach.
Day 2 > Puerto Colombia >Watercolor|perspective class, beach time and a talk with Hotel Pradomar Chef. Cooking Demonstration 1. Supper at Hotel Pradomar.
Day 3 > Puerto Colombia > Creative Cooking Class (CCC) with Walk the Arts. Developing the concept and its content of a meal. A brief watercolor|perspective class on the beach.
Day 4 > Puerto Colombia > Early morning, buying the ingredients in Barranquilla's market. Lunch at a local snack food restaurant. Cooking demonstration 2. Enjoying our supper with locals. Back to Puerto Colombia.
Day 5 > Transfer to Cartagena by private van > Discovering Colombian art at the Museum of Modern Art. Walk around the Old City. Rest of day at leisure.
Day 6 > Watercolor|perspective class around the hotel's pool. Street Food Tour. Afternoon at leisure. Watercolor|perspective class before supper.
Day 7 > Cartagena > A short watercolor|perspective class around the hotel's pool. Visit of a restaurant's kitchen and talk with the Chef. Rest of the day at leisure.
Day 8 > Cartagena > Making art in the old city (optional). Day at leisure; suggested lunch on the beaches of Castillo Grande (local dishes). Farewell supper.
Day 9 > Transfer to the Rafael Núñez international airport in Cartagena from where you will take your flight back home.
Return to your country from Cartagena. End of our winter art workshop in South America.
The price
The price of our eight-night art and food workshop on the Caribbean Coast of Colombia is CAD$ 2600 (around US$ 1950 as of April 2019) includes: all ground transportation as a group; transfer from and to the airport as a group; 8-night double accommodation (all rooms with air-conditioned and private bathrooms); all breakfasts; one lunch, two suppers, one street food tour, art supplies; art and cooking classes/demonstrations, all ingredients for the CCC, museum entrance and some drinks.
Read testimonials
Visit our cooking website (800) 611-4789.
7 reasons to visit Colombia > CLICK HERE!