Heather Wadrop
(Adelaide, South Australia, Australia)
Heather Wadrop
Austalian Outback 1, acrylic and on stretched blocked canvas, 60cm x 90cm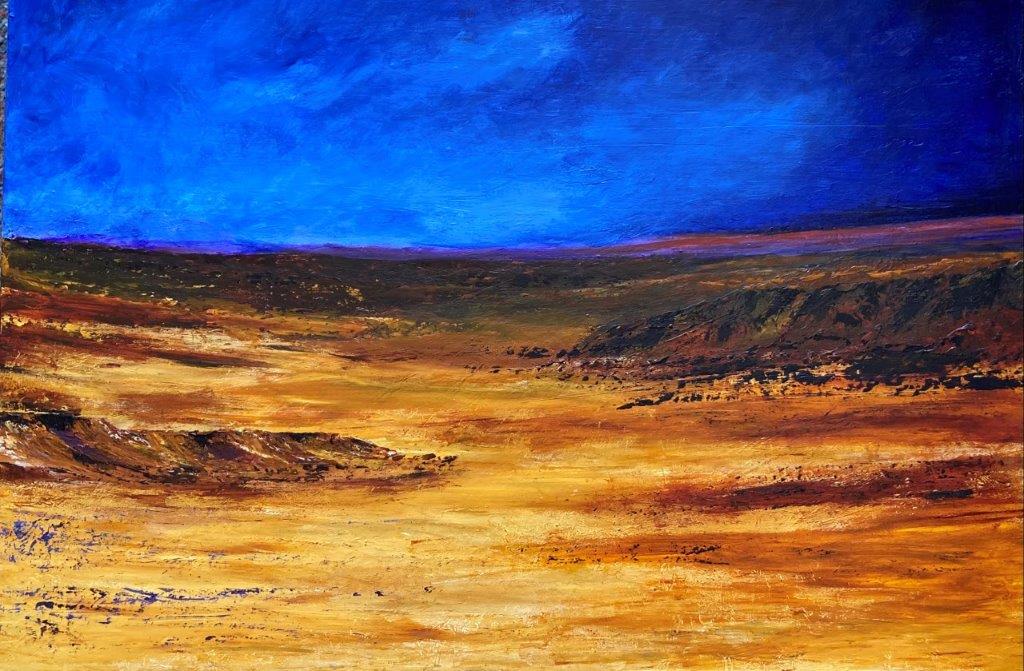 Heather Wadrop
Austalian Outback 14 B, acrylic and on stretched blocked canvas,  60cm x 90cm
Heather Wadrop
Australian Outback Arid 3, acrylic and on stretched blocked canvas, 102cm x 122cm
Heather Wadrop
Australian Outback 3, acrylic and on stretched blocked canvas, 60cm x 90cm 
Heather Wadrop
Australian Outback Arid 18, acrylic and on stretched blocked canvas, 102cm x 122cm
Biography – Biographie
Leaving my career and love of nursing behind me in 1980 I turned to a world of challenges creating and managing businesses with my Husband.  Initially trading in opal, we moved on to establishing an American western saddlery requiring a massive shift and learning experience.
The lure of opal called us back to the fields in outback South Australia.  A tough but hypnotic environment; the true Australian outback.
Retirement and the return to rural South Australia left me unoccupied, drawing and painting became a social event that I shared with my friend from the USA.  Our efforts crossing over the ocean at the click of a button.
2014 my greatest challenge, Lymphoma nearly derailed a planned painting workshop trip to Italy with my friend, but we were not deterred meeting in Rome and on to the wondrous region of Tuscany where we were immersed in art and history.
I now paint for the joy of it, to be able to express myself as never before.  The colours of my country are my inspiration.
Statement – Démarche artistique
I lived for many years in a small opal mining town in the arid inland Australian out back. The harshness of my surroundings did not deter me; my love for this amazing and changing country has not left me……. "an opal-hearted country, a wilful, lavish land". (Dorothea Mackellar 1904)
Travelling around Australia I discovered the diverse scenery from our southern oceans which surround our island to the breath taking ranges of the North and the red centre.
Photography gave me pleasure by capturing the vivid colours of Australia through the lens of realism and now provide me with my own references.
I now create freely without restrictions to portray through paint on canvas, the elements that have had a powerful impact on me the rich ochres and oxides, the vastness and the harshness but also the beauty of the country. I strive to be brave and different.
My mini studio; compact and, by necessity, organised and uncluttered.
My works greets me, I'm drawn into it…I reevaluate, look for authenticity and integrity in conveying my current message through the colours of the outback. I delight in using large brushes and palette knives ..but the tactile feel of sea sponges, and my hands and fingers, pushing, pulling, gliding across the large canvas gives me the greatest sense of freedom; I feel part of the land .
Art practice is a new aspect of my life I share with my friend in USA. 2014 her friendship and her non flagging support pushed me along as I worked through to remission from lymphoma. 2015 we attended a painting workshop in Tuscany Italy. We were both astounded with what we achieved and now continue to share and critique each other's work. Art and colour have reinvigorated me and given me focus…I paint for challenges and enjoyment.