Joy Guy
(Cupertino, California, United Sates)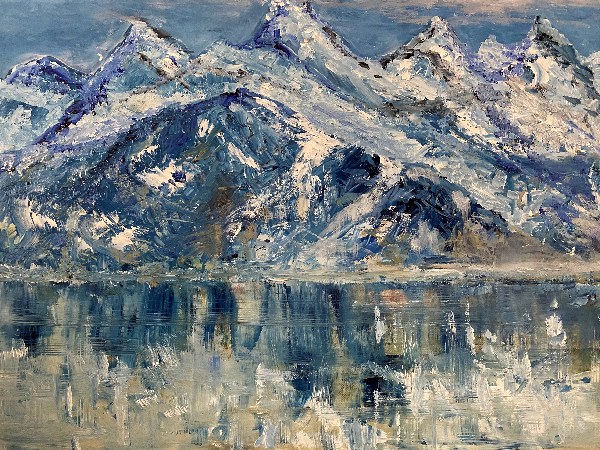 Joy Guy
Light on Mountain
Biography – Biographie
My school art class was not a success! When I retired 10 years ago, my friend in Australia was sending me some artworks and I decided, "if she can, I can learn". I took local Park and Rec classes in watercolor and found I enjoyed the process and the camaraderie of the group. Plus I now had more time to play!
I was looking for an adventure to begin my travels and settled on Tuscany with Yves and Monica. Oops, it was recommended to do oils, so off to the art store and with a few practice pieces under my belt, off I went.
When we returned full of enthusiasm with this new world, we continued doing workshops in the USA and Australia when on travels
My enthusiasm comes from my travels as I try to capture the feeling and light from all over the world. Travel does broaden the mind and art adds to my memories and enjoyment.
Statement – Démarche artistique
Audacity
Venturing past representation and copying towards the abstract. Many ideas but how to get them out on to canvas. Travel experiences are the key to my painting, landscapes and feelings evoked by being present in nature
Original painting, hate, wipe off, establish colors. Trying to find my own style, inspiration
Switch from Acrylic to oil painting and mastering fundamentals technique.
Constantly striving to grow and develop , evolve and improve
Destruction of landscape with reconstruction seems to be my Modus of operandi..traditional representative moving to abstract ideas.
Art is important as a connection to Heather and in this last year of COVID restriction has been something to develop. Maintains the necessity of life and need to paint and keep occupied for mental health. Friendship, soul mate across ocean. Encouragement, Can Do attitude. Life experiences change perspective of what is important
I am lucky to be retired and have time to develop art with workshops and now online classes. Different materials come into play as I discover more options to explore. Focus seems to be a problem. Which way to go? Small area for painting. Eyesight deteriorating over time, need light!