Our Cooking Book ; Gastronomy and Art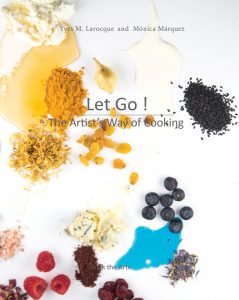 The Book and its Story
This is the offical cook book of our painting workshops in Tuscany (Italy) and Provence (France).
We have read that more and more travellers from the developed world are looking for tasteful travels. Increasingly, we are aiming for journeys that allow us to learn something new, and also to taste new dishes, therefore travelling-with-meaning.
This new book offers a simple and innovative way of cooking based on color harmonies that will help you release your creativity in the kitchen.
Inspired by Italian art and cuisine, this book will guide you in your personal adventure to "let go" and become a culinary artist. You will learn how to cook the way artists paint. You will learn how to transform your kitchen into an artist's studio and your meals into works of art.
This book explains in a simple way the basics of color theory that you can easily apply to your dishes. It also gives practical tips to let go and experiment as artists do. The book includes more than one hundred unique and easy to prepare recipes and the tools to create your own. Moreover, each recipe is paired with the appropriate Italian wine.
Let Go! The Artist's Way of Cooking is intended not only for those interested in cooking, but also for art and art history lovers, Italophiles, lifelong learners and everyone seeking to infuse their everyday life with beauty and creativity — two essential ingredients for well-being.
Excerpts from our cook book Let Go! The Artist's Way of Cooking
From the Introduction
"This is a cooking book, an art book. This is a book for everyone aiming to feel the pleasure of color and the joy of seeing, touching, smelling – in brief, creating. This book deeply believes in the power of art to bring joy to our daily lives and to enrich our present moments. This book believes that art can be made anywhere and anytime. In brief, this book offers an innovative and sound method of cooking with colors that will trigger your creativity in the kitchen. Your kitchen now becomes an artist's studio. […]
There are hundreds of excellent books on cooking published every year. Just like in art we certainly needed to propose a new idea, a new vision, a new approach to cooking that may lead our readers to live a rewarding experience. We could not repeat what had been previously written and what was easily accessible on the Web. We had to do more; after all, we offer art experiences! We needed to find a modus operandi close to who we are and what we do as visual artists, and we have found it. The answer was right in front of us […]