Painting Class | FALL 2020 and WINTER 2021 (Tuesday)
At Walk the Arts, we start our personalized teaching according to the level of each participant. Under our direction, and as a group, we move on forward. We promote creativity and authenticity in a much more demanding and complex "artworld". Enjoy the uniqueness of everyone.
Click on thumbnails to see more works.
I am currently painting because of the love of the rich, vibrant colours that I splash spontaneously across the canvas, curious to see where the rivers of paint will run, hoping to create a magical world of dramatic abstract imagery.  Painting is pure escapism from the news of the day.
Je peins parce que la beauté de la nature humaine me donne de l'espoir. Saisir les émotions, les croyances, la culture et le mode de vie d'une personne me fascine et me touche. Ce partage intime se traduit par des œuvres qui apaisent mon esprit et me procurent une confiance en l'avenir.
I paint because the beauty of human nature gives me hope. Capturing a person's emotions, beliefs, culture and way of life fascinates and touches me. This intimate sharing translates into works that calm my mind and give me confidence in the future.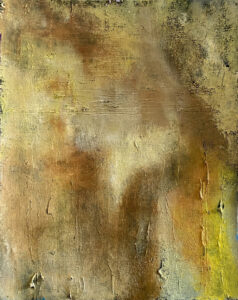 Dostoyevsky wrote that "Beauty will change the world" and I am trying to do my part by creating works that please the eye, feed the soul, and express my passion about life.
Je peins pour explorer des territoires intérieures à la quête de moments de beauté et de plénitude.
I paint to explore inner territories in search of moments of beauty and fulfillment.
Painting brings me pleasure and challenges. It fulfills my desire for expression. Mixing color, taking a brush in hand, and putting it into a puddle of paint and then onto canvass is a gratifying adventure.
Mid crit on March 9 by the instructor and the class.
WINTER CRIT> by Marc Adornato April 6, 2021.
Marc Adornato (Canada)
Contemporary Art | Adornato Contemporary Fine Art | Canada
Marc Adornato is a non-religious, Italian-Canadian contemporary artist based in Ottawa, Canada. His subversive and provocative art practice consists of dark and dystopian subjects, but often with a satirical, playful, irreverent twist.
Pollution & climate change, domestic terrorism & gun violence, state surveillance, wealth inequality, and Capitalism-gone-wrong are regular motifs in his paintings, street art, performances, sculptures, and videos. Adornato also explores a wide range of other mediums and disciplines including building instruments, music, assemblage furniture, mischievous pranks, and more.
His work resides in the permanent art collections of the City of Ottawa, the Diefenbunker Museum, as well as several prominent private collections across Canada, Italy, China, and Spain. Adornato has also received grants and awards including the Artist Production Grant from the City of Ottawa in 2018 for his most recent medieval painting series, Dystopia Rising.
Career highlights include solo exhibitions at the Diefenbunker Museum (2018), The Ottawa Art Gallery Annexe (2016), group exhibitions at the Bank of Canada's Currency Museum (2007), the Canadian War Museum (2006), and a 7-year (ongoing) residency at the politically contentious gastro pub, UNION 613 in Ottawa.
For more information, visit Contemporary Art | Adornato Contemporary Fine Art | Canada
FALL CRIT> by Michel V. Cheff on November 24.
Michel V. Cheff has, for many years, contributed to the development of various cultural organizations, educational institutions and museums. He has participated in the work of boards of directors, governance and strategic planning committees, acquisitions, exhibitions and programming committees, grants and award juries and has conducted art critique sessions.
He was curator of the exhibition Hommage à Dallaire: Que la fête commence !, marking the centenary of the birth of Hull's artist, Jean-Philippe Dallaire, presented at the Galerie Montcalm, Gatineau, in 2016. In 2018 he curated the first phase of the exhibition Suzanne Joubert: 30 ans de forêts. He is currently curatorial advisor on the AT HOME exhibition project about the Danish painter Wilhelm Hammershøi (1864-1916), a project led by the Ottawa photographer Leslie Hossack. The exhibition will be presented in 2021.
Michel V. Cheff taught drawing and art history at Algonquin College, the Ottawa School of Art and the Université du Quebec à Hull (1970-1980); he was Education Officer and Head of Educational Services at the National Gallery of Canada (1974-1988), Chief Curator and Director of Curatorial Services at the Musée du Québec (1988-1993), Executive Director of the Winnipeg Art Gallery (1993-1998) and Director, Special Initiatives in the Office of the CEO, Canadian Museum of Civilization Corporation, Gatineau (1998-2011). Between 1984 and 2010, Michel was involved in numerous museum and visual arts associations. He has served as President of the Canadian Museums Association and as President of the Canadian Art Museum Directors Organization.
Michel holds a Diploma in Creative Arts from Sheridan College, Oakville (1970), an Honors BA in Visual Arts from the University of Ottawa (1974) and an MA in Art History from the Université de Montréal. His thesis focused on Le dessin chez Jean-Philippe Dallaire (1916-1965) jusqu'en 1938 (1983). Mr. Cheff studied andragogy at the Université du Québec à Hull in the late 1970s, Italian at the University of Ottawa in the 1980s, and theology at the Dominican University College in Ottawa between 2000 and 2008. Michel V. Cheff lives in Ottawa.