This year 2019, Art Tours to New York and the Venice Biennale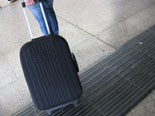 Walk the Arts.com promotes experiential learning for everyone. Our art tours and art workshops welcome individuals of all ages, interested to immerse in the culture of the visiting cities.  Paris, Venice, Rome, Barcelona, Cairo, Montréal, New-York, to name a few.
We specialize in fine arts, art history, and history, but also in the history of religions and Canadian studies. Walkthearts is well-traveled and is very familiar with the United States, Canada, France, Italy, and Spain.
We promote active and experiential learning. We lead all from the underground subways and wine cellars to the top of medieval towers, via supermarkets. During longer stays, we organize social activities to foster friendship and understanding between the locals and the young visiting scholars. For fine-arts apprentices, we organize exhibitions of their artwork in the host city.
We certainly know that "walking the arts" is an essential aspect of life as it is one way to understand others. Visit this year the Venice Biennale 2019. Travel to New York City. To sum up walkthearts.com offers "live art trips or art tours" or "live holiday art courses" to students, educators, and anyone like you, interested in discovering new cultures via their society, art, history, and religion.
In brief, we take over the involved task of providing an active learning experience for your students and you in some of the worlds most magical and beautiful locations, may it be for a weekend or a whole school semester. For more information > https://walkthearts.com/_art_tours/indexwalk.shtml