The Venice Biennale 2021 | "Thought-provoking" she said!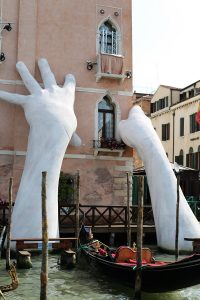 Art Tour | Serious Fun
Dates to be announced
"A thought-provoking " ten-night art trip in Italy, a unique opportunity to visit the major art sites and art museums in Rome and Florence as well as the 58th Venice Biennale, the most prestigious exhibition on the international contemporary visual arts scene, presenting more than 150 artists from around 38 countries. This art tour is a great combination of art history, discovery walks and museum exhibitions for all tastes, from Antiquity to Baroque and from Modern to Contemporary.
Like all our programs, Art Trip Italy and the Venice Biennale 2021, is open to the lifelong learners, art lovers, and artists of all levels willing to live a meaningful art experience by immersing into the culture of the visited country. We work with small groups (maximum 12 people) so we can provide our participants with quality time and instruction as well as an intimate and fun experience among like-minded adults. Since Walk the Arts is not a travel agency, but a small cultural institution, our tours are led by professionals in the art and art history domains.
Not only you will be learning a lot, but you will have the opportunity to experience the Italian way of life. We stay in centrally located hotels, we walk a lot, we travel by train and subway, and we go to various piazze and restaurants frequented by locals.
For more information on this program and on Walk the Arts, please click here, walkthearts.com