Testimonials – Painting workshops and art trips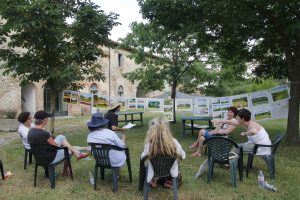 Art workshops, painting classes and art history courses offered by Walk the Arts since 1997.
As a second-time participant, I can only say the experience re-lived has changed my life, in the context of my art, yet again. The program couldn't be better organized and enlightening. Being in Italy, seeing the art, both in the fields our lodge and the museum trips included, the vibes of the Italian masters reach the soul. This program is so enhanced by the knowledge, instruction, patience and the humor of our instructor Yves. Our chef, Mónica provided meals fit for royalty and those long evenings with all around the table brought together people from different worlds with a warmth and harmony I will never forget. My faith in humanity was restored with this group and I look at my photos daily to keep the memory as close as possible. Already thinking about another workshop… (K. Gross, San Francisco, USA, Studio Italia 2018)
The best of all worlds: artistic growth, delicious food, and wine, wonderful people, breathtaking beauty. Completely worthwhile. This workshop went beyond all expectations. #1: the people were kind, warm, friendly, talented, and very interesting. #2: the "work" was as challenging and rewarding as you let it be. #3: the tours, lectures, and the setting were beautiful and enriching. #4: the food and wine alone were worth the trip. I would recommend this well-run workshop to all levels – to all artists! I learned so much about who I am as an artist and fell deeper in love with the beauty of Italian art, food, wine, and the landscape. Thank you Walk the Arts. You have given me an experience I will always treasure. (O. Moorehead, Los Angeles, USA, Studio Italia 2018)
An experience of a lifetime, with a brilliant teacher, a talented chef, sublime locations, thoughtfully designed program, which left us with only one question: when can we do this again! (A. Fader, New York, USA, Studio Italia 2018)
One of the best experiences of my life. (C. Monhollen, Detroit, Studio Italia 2018)
In only ten days, an unforgettable human experience in the most appropriate surrounding; approaching art in a sincere way with excellent food and wine every night as a reward. (V. Neumann, Bogotá, Colombia, Studio Italia 2018)
You've given me so much to think about! Your philosophy was impactful and thought provoking! Walk the Arts provides a unique blend of art instruction and art history combined with fabulous Italian home-cooked meals, new friendships and wonderful exposure to the beauty of the Tuscany region. (S. Sohn, Detroit, MI, USA Studio Italia 2018)
Walk the Arts offers not only a stimulating art workshop that motivates students to experiment and progress, but they also offer a wonderful cultural experience that is enhanced with excellent food and warm friendship. Studio Italia was a memorable experience! (D. Ericsson, Toronto, Canada, Studio Italia 2017)
I was encouraged throughout the workshop to let the process of art-making lead me. This mindfulness led me to breakthroughs in my process and to a new way of seeing and expressing myself in the paint. There was also a good sense of accomplishment and a very exciting feeling of reward when my paintings were finished in Italy. Thank you! (K. Wilkie, London, Canada, Studio Italia 2017)
Studio Italia is a jewel in the crown of art workshops. The program is so well designed to balance painting, instruction, advice, critique and museum tours by day with long, warm social evenings of conversation. This is all possible thanks to two people, Mónica and Yves, completely dedicated to providing a complete experience in the arts. Mónica's meals were exceptional and Yves provided painting instruction, approaching each painter at their level and raised the bar on us all. I do not believe anyone could walk away from this program unaffected. (K. Gross, San Francisco, U.S., Studio Italia 2016)
Fun, eye-opening, intimate, loved every minute of it. It was a whirlwind affair, lots of places to paint, many insightful discussions, totally instructive painting demos, loved the museum, adored Italy. Walked away with a new respect for art. Made some new friends. Yves and Monica are terrific. (A. St. Louis, Ottawa, Canada, Studio Italia 2016)
Studio Italia exceeded my expectations. Yves and Mónica were there for us all the time! Italy is so rich in history, so beautiful! I particularly loved Assisi! I learned a lot about painting and art history and also about creating comradeship and fun with a group of new friends. (K. Hanford, Rochester, U.S., Studio Italia 2016)
Walk the Arts delivered more than a well-structured and organized art workshop, they inject a high level of passion for all elements. The art lessons, lectures, and locations were invigorating and Monica's love of fresh produce and serving delicious meals made a perfect end to each day. An enriching and memorable experience. (P. Reid, Sydney, Australia, Studio Italia 2016).
Wonderful beyond description! (Alice Chang, Kuala Lumpur, Malaysia, Studio Italia 2015)
"One of the best holidays and learning experiences I have had in my life. A thought-provoking, reflective, and inspirational short time that I would dearly love to repeat". (S. Scanlan, Sydney, Australia, Studio Italia 2013)
The whole experience was totally enriching – emotionally, intellectually and visually. The rich mix of painting with Yves' instructions, his lectures on art history and theory and the wonderful visual sensations of hilltop towns. Monica's food was "gourmety plus". The whole workshop will remain a peak experience in my life. (B. Cail, Sydney, Australia, Studio Italia 2013).
Atelier Provence and Barcelona was fabulous! It exceeded my expectation in every area. The itinerary and pace were just right. The art and art history was covered by a master instructor. The food prepared with love by an amazing chef and every evening was a superb dining event! Yves and Mónica are the perfect team. It was an awesome and highly recommended overall experience! (M. Campbell, High Point, USA, Atelier Provence& Barcelona 2018)
If you want an intense, fun and multicultural art experience this is the one. Walk the Arts high energy team made this workshop a rewarding and unforgettable experience. (R. Desrosiers, Kingston, Canada, Atelier Provence& Barcelona 2018)
What a fabulous experience! I learned a lot, met great people, saw wonderful places. Thoroughly enjoyable. I look forward to doing another one in a not too distant future. (S. Paine, Christchurch, New Zealand, Atelier Provence& Barcelona 2018)
Thank you Walk the Arts for another great art adventure that was very exciting and fulfilling in so many ways. I highly recommend it. (S. Patry, Kingston, Canada, Atelier Provence& Barcelona 2018)
This workshop exceeded my expectations in every way. The locations in which we painted were outstanding and well-sourced. The accommodation was excellent. The food was beyond outstanding. Mónica is a genius in the kitchen and it was such a pleasure to taste locally sourced produce. The tuition was far more professional, and accurate than I had imagined. Yves is an exceptionally passionate and informed teacher and his experience is invaluable. His lectures were a wonderful treat and I looked forward to those each day with genuine delight and enthusiasm. Without a doubt, the workshop has inspired me and given me both the confidence and strength to develop my own painting practice and for that, I am truly grateful. This was indeed an experience of a lifetime and I loved every moment. (A. Knaggs, NSW, Australia, Atelier Provence and Barcelona 2017).
An inspiring week in Provence of painting at excellent sites and beautiful scenery, delicious food, and wine. Finishing with a productive critique of all the work. Barcelona was busy, hot and exciting with all visits to galleries and other places pre-booked and hassle-free. Walk the Arts offers the only and best Art Courses to do in Europe, a huge thank you to Yves and Monica. (D. Lombard, NSW, Australia, Atelier Provence and Barcelona 2017).
I came back amazed with the country and the art (food and drawing) I would do it all over again but stay longer; I enjoyed it that much. (A. St-Louis, Ottawa, Canada, Studio Colombia Art & Eat 2019)
If you're looking for an authentic experience of Colombian culture and food, look no further. As a non-artist, the draw for me was the varied and interesting itinerary – many off the beaten track of usual tourist sites. The diverse culinary and cultural experiences made it perfect! Monica and Yves are knowledgeable, passionate and delightful to be around. I can't imagine experiencing all that I did without them at the helm. (R. Gallo, Ottawa, Canada, Studio Colombia Art & Eat 2019)
It was a very enlightening art class and the food tour was memorable. Thanks so much for your enthusiasm and guidance. (J. Cosgriff, Oak Park, MI, USA, Studio Colombia Art & Eat 2019)
Through its excursions, Studio Colombia is far more than art and touring. This is a trip that challenges one to stretch, to connect with one's own Being, whether artist or not, yet as well, it offers skill learning on an applied and practical level in a very collegial way. (G. Giuliani, Ottawa, Canada, Studio Colombia 2013)
Studio Colombia is so much more than a perspective painting workshop … although I'll never look at a horizon line in quite the same way again! As a first-time visitor to Colombia, I was blown away by the color, culture, and beauty of the country and its people, and I can't think of better guides than Mónica and Yves. They were the consummate hosts, always solicitous of their little group and accommodating of our individual needs. As at any of their workshops, we laughed and we learned, we sampled the local spirits and grappled with the meaning of life (usually in that order), and we feasted on the local delicacies. Thank you for the wonderful experience that I would not hesitate to recommend to anyone! (H. Gasewicz, Ottawa, Canada, Studio Colombia 2013)
Studio Colombia was a very fulfilling experience. Not only did I came back with a great appreciation for the country and its culture but I also found the other workshop participants to be quite interesting. There was never a dull moment during Studio Colombia. I would recommend it to whoever is thinking of joining the next studio in this fascinating country. (D. Lamontagne, Ottawa, Canada, Studio Colombia 2013)

This art trip is excellent. This was my second trip and I will be going again–and that tells the whole story. Walk the is the best! (E. Roberts, Prescott, ON, New York Art Trip 2019)
This was my 4th trip to NYC with Walk the Arts they have made improvements to the trip over the years. Especially this year with the excellent new location of the hotel. The rooms were great, normal, not NYC size but normal. The pace of the tour is fast but well organized and timely. This city has so much to offer we see all the art highlights and there is free time to do things on your own. I will be joining them again in the future. No higher recommendation than that. (D. Sayeau, Ottawa, New York Art Trip 2019)
This is a wonderful way for a concentrated taste of art in New York, presented by enthusiastic and knowledgeable people. And the other guests were lovely, too. (L. Bennett, Ottawa, New York Art Trip 2019)
Since 2007 I have participated many times in New York Art Trip; I have always loved it. A very well-organized tour visiting the most important museums and galleries with wonderful people all enjoying the same passion for art and architecture. (P. Clarkson, New York Art Trip 2019)
I've done the NY art trip five times and look forward to more. (R. Gougeon, Ottawa, New York Art Trip 2019)
Yves and Monica were perfect hosts on this inspiring trip. Being immersed in art with enough time to catch a Broadway show each evening met my expectations. My view of art has been changed for the better and I am eager to learn more so another trip will be planned in the near future. (J. Smoley, Winnipeg,)
It was my third participation in New York Art Trip, each trip ended up being an excellent learning opportunity and a great source of inspiration.  (D. Sayeau, Ottawa, New York Trip 2018)
Monica is kind, well organized and great communicator. A person who is a pleasure to know. Yves is fun and very knowledgeable. His 'talks' are fabulous and inspiring. (P. Betcher, Perth, New York Art Trip, 2018)
The experience was highly enlightening, including the artwork itself in museums and galleries, the information shared by Prof. Yves Larocque as well as his charming partner Monica. (Ottawa, New York Trip 2018)
We are writing to thank you, sincerely, for the wonderful trip to New York City.  We had a truly enjoyable time and were inspired by the incredible artwork in museums. We particularly appreciated Yves lecture about the history of art through Picasso's "Les Demoiselles d'Avignon".  We also appreciated your expert organization.  We were always where we had planned to be; there was never a fuss or the feeling of being rushed.  We covered so much in a short time, and it is remarkable how you were able to keep us all organized. (S. Abraham and P. Kenny, Ottawa, New York Trip 2018)
Thank you for a very enjoyable and educational art tour.  The experience was incredible and has provoked me into rethinking "that" Marcel Duchamp.  The tour was my road to Damascus and this doubting Thomas might yet become a disciple. It was truly a pleasure to meet you both and the other members of the art community. (C. Ouseley, Ottawa, New York Trip 2016)